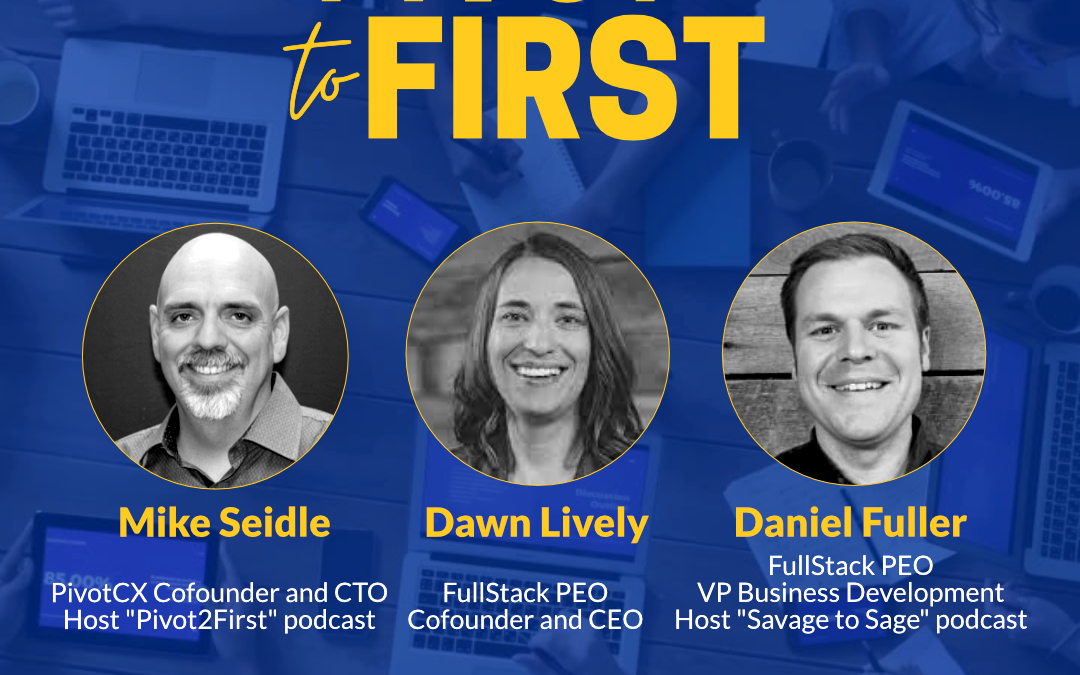 It's time for a PEO Revolution. Today I'm joined by Dawn Lively and Daniel Fuller of FullStack PEO. We use FullStack at PivotCX for HR benefits, payroll, and everything we do managing our people. If you look at a PEO, they allow a smaller company like us to compete with more prominent companies for talent. It's an option that can be transformative if it fits your organization.
What is a PEO
PEOs (Professional Employer Organization) are outsourcing firms that provide services to smaller businesses. They enter a co-employment agreement with their clients and become the employer of record (EoR) for tax purposes. Typically, PEOs offerings may include human resource consulting, payroll processing, employer payroll tax filing, benefits administration, recruiting and hiring, regulatory compliance assistance, training, and development. 
Reasons to use a PEO for HR needs:
Although people think of outsourcing accounting as a business function, many don't connect the dots about outsourcing HR. Using PEOs enables small companies to focus on building their product and growing their company without allocating additional resources to HR tasks.  It becomes pretty simple and can save a lot of time. Many entrepreneurs don't think that they only have so many hours in a week to put into work.  How many of the things that a PEO does are going to give you, if you do them yourself and you do them very well, will provide a business any advantage over what a PEO can do? I'm not sure there are many. 
Entrepreneurs' Resistance to the PEO Revolution
There's a profile of people who think they have to know the ins and outs of their business. The hardest thing to get some business owners, especially some new entrepreneurs, to realize is that they should use PEOs to free up their time and energy instead of holding onto HR tasks until they've mastered every aspect before giving any away.
A mentality that has to be learned
"A quick story, we worked with another HR tech going in scale-up mode. Their team comprised HR professionals, and they knew how to do the job themselves because they had done it before but realized from the beginning 'if we're gonna grow and scale and positively answer to our investors, we need to give this up.' The team started with us when they were just three cofounders; they hadn't hired anyone yet but wanted to have the benefits piece in place for when they recruited and onboarded that first person.
When you have that personality where you want to know and control everything, you have to be challenged to let it go to be successful."
What are the biggest challenges business owners face when it comes to HR and people?
The first challenge is finding people. Once they find them, the second challenge is differentiating themselves from competitors.
"What will stop that person you brought on six months ago, especially in today's market, from getting an offer from a competitor for $15000 more. What will stop someone on your team from taking $15000 a year more? If someone hasn't proactively thought about what besides compensation is gonna keep that person here, and they haven't done anything about it. I think it's going to be a big challenge for them."
Solving this issue has a lot to do with culture fit and being part of the future strategy. Dealing people in on stock options when possible and appropriate. Having buy-in regarding the company's values, mission, and vision and including them in the decision-making process. Listening to people and getting their feedback (some of the best ideas come from feedback)
It's also vital to consider ideas and act on them; otherwise, it negatively impacts the culture. 
How many companies are having trouble finding people?
That person was hard to find before the pandemic, and it's even harder to find now. We hear about that struggle with most of our clients. 
It's very different when you are a small business vs. a big company. What are companies doing to attract talent?
In essence, there are two parts to this. The first is finding talent and being able to attract it. Secondly, companies have to work hard to retain talent. Companies that usually offer 2-5% raises to their employees in this tight labor market have to do 4-7 or 4-8% increases to be competitive. "But you have to do what you can afford as a small company. So half is trying to keep the talent you already have in addition to recruiting and growing."
Learn More
Dawn Lively
Dawn has over a decade of experience in the PEO industry, providing administrative, operational, and strategic human resource guidance to small- and mid-sized companies. She has served in a Senior Director capacity, overseeing human resource, client service, benefits administration, and payroll administration functions within a PEO. She was also instrumental in both strategic planning and tactical execution to achieve the strategic goals.
Transformational Book: Entrepreneurial Operating System (EOS) and related books
Favorite Movie:  first "Point Blank"
Dawn's LinkedIn: https://www.linkedin.com/in/dawn-lively-she-her-hers-9558b08/ 
Daniel Fuller
Prior to working at FullStack as VP Business Development, Daniel's background includes coaching entrepreneurial leaders and mission-driven organizations. While completing his MA in Global Leadership, Daniel founded Sycamore Way, a startup focused on developing tangible skills for leaders and organizations to be talent development cultures. He hosts the "Savage to Sage", a podcast exploring the evolution of entrepreneurs through the crucible of starting and growing companies.
Transformational Book:  "At your best" by Carey Nieuwhof
Favorite Movie: "Dead Poets Society"
Daniel's LinkedIn: https://www.linkedin.com/in/danielfullerindy/
Podcast: "Savage to Sage" explores the evolutionary journey of entrepreneurs and founders. https://www.savagetosage.com/ 
Mike and PivotCX:
Mike's LinkedIn: https://www.linkedin.com/in/indymike/ 
Pivot2First Podcast: https://pivot2first.com/
PivotCX: https://pivotcx.io