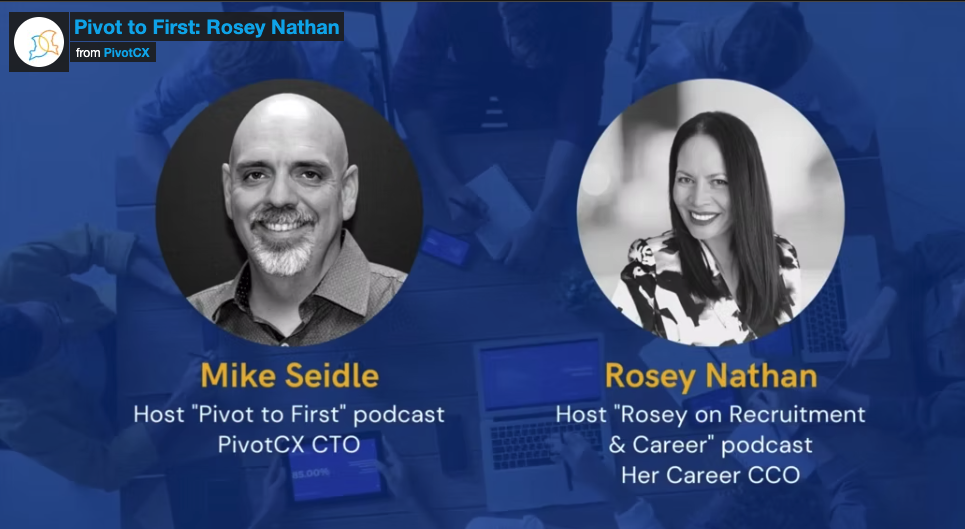 Pivot to First explores topics and ideas with the goal of turning hiring into a competitive advantage. In this episode, Mike speaks with Rosey Nathan. In addition to being a podcaster extraordinaire based out of New Zealand, she is a Recruitment Partner with Customise Talent Group. You can also find her work as Career & Whole Human Mentor for Rosey on Recruitment and Career. She also has a varied background in Sales, Management, and recruiting in SaaS, FinTech, and other industries.
In this edition we explore:
What makes a happy workforce and what benefits does it bring to a company.
Explaining Employee Engagement in 3 words.
The recruiting hurdles employers are facing in the current market.
Some reasons why candidates' counteroffers have increased up to 40%
How can candidates avoid pitfalls when looking for a new job.
Tips for happy recruiting in 2022
Fixing employers' candidate flow problem via speed of engagement.
Rosey's reading, movie, and TV recommendations.
Rosey Nathan on the web https://linktr.ee/roseyhercareer